The Next Generation
of the Leaders and Best.
A TRUE COLLECTIVE EFFORT, OUR MCHAMP FACULTY ARE ACTIVELY COLLABORATING TO STRENGTHEN OUR EDUCATIONAL FOUNDATION AND CREATE BOLD NEW STANDARDS FOR SPORTS MEDICINE LEARNERS AT ALL LEVELS.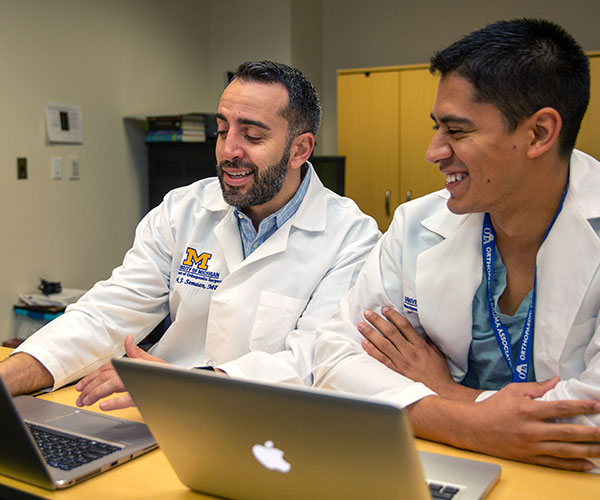 MCHAMP Education Programs
Currently in the developing stages, are characterized by:
An Informed Community
Our partners and teams have access to the information and tools they need to engage in sports in a safe, healthy, and fun manner.
Hands-On Experience
Care providers and trainees work alongside team physicians at various sporting events, have access to state-of-the-art simulation technology, and become equipped with the knowledge and skills necessary to treat a variety of conditions.
Prioritizing Diversity and Inclusion
It is imperative to expand the pipeline of women and underrepresented populations entering sports medicine professions — and holding leadership positions within the field.
A Global Playing Field
We embrace the unique opportunities afforded to us through our strong ties with partners across the globe. Trainees have the opportunity to study abroad and experience firsthand how other countries practice sports medicine.
A Robust Digital Platform
Whether learners are located in the heart of Ann Arbor, Michigan, or 10,000 miles away, patients and providers will have access to invaluable educational materials online, available 24/7 irrespective of geography.
Eileen Crawford, MD
U-M Orthopaedic Surgeon, U-M Sports Medicine Fellow 2013-2014
"The education I received as a sports medicine fellow at Michigan Medicine drew me back after a few years away. The enthusiasm for teaching and sharing knowledge, the emphasis on a team approach, and the constant drive to be better for our patients makes our work so much more fulfilling."